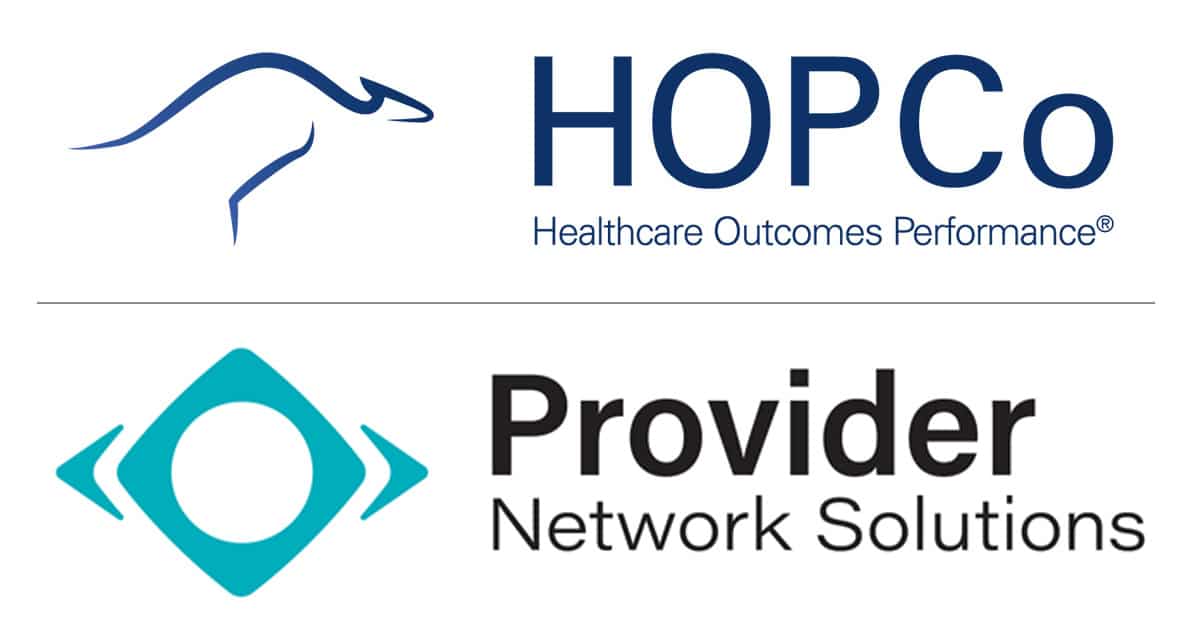 HOPCo Network Solutions Formed to Expand Value-Based Care Solutions for MSK Care
Phoenix, AZ – (August 21, 2023) Healthcare Outcomes Performance Company (HOPCo), the national leader in musculoskeletal (MSK) practice and clinical outcomes management solutions and the country's largest MSK value-based care organization, has partnered with Provider Network Solutions (PNS) to establish a joint venture, HOPCo Network Solutions, that will acquire the existing PNS MSK value-based care networks across Florida.  PNS is an established innovator and a prominent value-based specialty organization that connects payors with networks of more than 1,100 orthopedic, pain management, and podiatry providers, managing over 1.8 million fully insured MSK lives.
HOPCo Network Solutions will add to HOPCo's well-established portfolio of value-based specialty networks, such as the HOPCo Florida MSK clinically integrated network, the largest of its kind in the US, and the HOPCo Arizona MSK clinically integrated network, which is the only network to successfully manage full population health risk on the global spend of MSK care.  By leveraging HOPCo's proven value-based care expertise, the networks will expand their capabilities and MSK value-based care offerings to additional providers and payors to drive savings and improve quality in MSK specialty care.
PNS has delivered value and cost savings for over two decades by utilizing its robust MSK network management, specialty management expertise, and third-party administrator (TPA) infrastructure.  "Over the past 25 years, PNS has grown substantially thanks to the value we have been able to deliver to payors, providers, and the community," said Dr. Jose Pelayo, PNS' Co-Founder and Chief Executive Officer and a recognized authority on specialty care delivery.  His team of experts will continue to play lead roles in ensuring the ongoing growth and success of the MSK networks.  "With our growth, we needed a partner with experience and expertise in managing more comprehensive risk-based models.  That made HOPCo our natural choice," Dr. Pelayo added.
Dr. Thinh Tran, President and Chief Strategy Officer of PNS, will take on the CEO role for HOPCo Network Solutions, and Jordan McInerney, EVP of Growth and Network Strategies for HOPCo, will assume the role of COO.
Provider Network Solutions is the newest addition of partners to HOPCo's growing national and fully integrated MSK platform.  In the last 12 months, HOPCo has entered multiple practice partnerships in Pennsylvania, Florida, Wisconsin, and Nevada and additional partnerships in Michigan and Arizona.  In addition to its differentiated and uniquely integrated digital solutions for provider-patient engagement and quality outcomes tracking, HOPCo has partnered with payors, health systems, and physician practices in more than 30 states to transform the delivery of MSK care and align all key stakeholders around sustainable value-based solutions.
"The PNS team has a well-built and innovative model that, like HOPCo, has proven to align payors and providers around value and outcomes," said Dr. Wael Barsoum, President and Chief Transformation Officer for HOPCo. "With this important milestone, HOPCo will be enhancing its offerings to payors and providers across the region and accelerating the adoption of additional, comprehensive MSK value-based care programs that improve patient outcomes and drive savings."
###
About Healthcare Outcomes Performance Company (HOPCo)
Healthcare Outcomes Performance Company (HOPCo) is the national leader in integrated musculoskeletal value-based health outcomes management, practice management, and health system service line management.  This includes comprehensive expertise across all MSK specialties, including orthopedics, spine, neurosurgery, hand, pain management, rehabilitation, and neurology.  HOPCo's integrated care, analytics, and facilities development and management platforms have proven to increase the quality of patient care while reliably reducing the total cost of care across the care continuum for practices, health systems, and payors alike.  HOPCo's affiliated payors, practices, and health systems successfully participate in highly efficient value-based contracting (bundled payments, chronic episodes of care initiatives, population health programs, and other advanced risk-based arrangements) utilizing HOPCo's proprietary platforms, IT solutions, integrated analytics, and evidence-based, comprehensive care pathways.  Visit www.hopco.com to learn more.
About Provider Network Solutions (PNS)
Provider Network Solutions (PNS) was established in Florida in 1998; it serves as a prominent Value-Based Specialty organization, managing 3.5 million lives and connecting payors with over 3,216 Specialty Providers in the following specialties: Dermatology, Pain Management, Podiatry, and Orthopedics.  By leveraging its licensed third-party administrator (TPA) infrastructure, PNS delivers a reliable offering to its health plan and provider partners through advanced analytics and specialty risk management expertise.  Compliance is always top-of-mind at PNS and is supported by NCQA accreditation standards and its HITRUST risk-based (r2) certified security systems.  PNS enables the alignment between primary care providers, specialists, and health plans, to provide member access to specialty providers for the patient's benefit.  This philosophy embraces best practices, enhances the delivery of care, and ensures positive clinical outcomes while maintaining a vision to be trendsetters and innovators in the healthcare market.  Visit www.providernetworksolutions.com to learn more.
For media inquiries, please contact:
Daniel Goldberg
Sr. Vice President of Marketing and Communications
Healthcare Outcomes Performance Company (HOPCo)
623.241.8649
Daniel.Goldberg@hopco.com