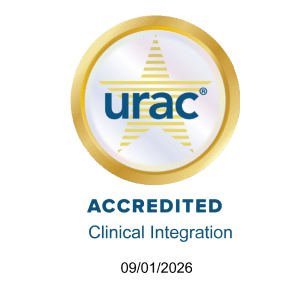 The HOPCo Specialty Care Network Earns URAC Accreditation in Clinical Integration
Becomes the First Accredited Musculoskeletal Clinically Integrated Network in the US
​Phoenix, AZ (September 7,2023)  – Healthcare Outcomes Performance Company (HOPCo), the national leader in musculoskeletal (MSK) physician practice management and value-based care solutions, is proud to announce that its Arizona clinically integrated network (CIN), The HOPCo Specialty Care Network, has earned URAC accreditation for Clinical Integration.  This statewide CIN is the first MSK CIN in the US and, with this prestigious distinction, becomes the only specialty-care URAC-accredited CIN in the country.
The HOPCo Specialty Care Network is comprised of more than 230 MSK-specialty physicians across Arizona and overlaps with more than 90% of the state's addressable population.  The MSK physicians are inclusive of orthopedics, spine, neurosurgery, pain management, neurology and rehabilitation medicine, and all are aligned around a comprehensive and fully integrated approach to measurably improve the value of MSK clinical services throughout the region.  The CIN is powered by HOPCo's advanced medical economics, analytics, digital engagement and network management platform, which has proven to improve clinical outcomes and increase savings across the total cost of MSK care.
URAC is the Gold Standard for Health Care Accreditation and the independent leader in promoting healthcare quality by setting high standards for clinical practice, consumer protections, performance measurement, operations infrastructure and risk management.  URAC relies on a multidisciplinary advisory group to guide standards development, establish benchmarks and inform revisions.  This group includes national leaders across the healthcare spectrum as well as its Board of Directors, Standards Committees and other industry experts. This broad, inclusive approach assures that URAC's standards promote industry best practices.  By achieving this accreditation, The HOPCo Specialty Care Network has demonstrated its commitment to quality care, enhanced processes, patient safety and improved outcomes.
"This latest recognition represents an important milestone, and we could not be more thrilled that after rigorous review, The HOPCo Specialty Care Network has been URAC-accredited for Clinical Integration," said Rina Vertes, President of Value-Based Care Solutions for HOPCo.  "It establishes another strong validation of the Network's continued commitment to achieving superior clinical outcomes and value across the region."
The HOPCo Specialty Care Network in Arizona joins HOPCo's national portfolio of MSK-focused CINs, including the Florida-based Musculoskeletal Value-Based Care Network, which encompasses more than 530 MSK specialty physicians across Florida.
"The participating MSK specialists across Arizona, along with our analytics and network management teams, are proud to continue to lead the way in MSK population health and value delivery with yet another industry first, the only musculoskeletal CIN in the country with URAC accreditation for Clinical Integration," added Dr. Jason Scalise, Chief Growth Officer for HOPCo.
URAC specifies that this designation demonstrates a meaningful commitment to quality health care.  "Clinically Integrated Networks are the future of health care as they promote the best in provider-to-provider communication to improve patient care URAC is proud to recognize.  The HOPCo Specialty Care Network for its achievement of Clinically Integrated Network accreditation," said URAC President and CEO, Shawn Griffin, MD.  "This accreditation reflects excellence in the areas of health information technology, care coordination and population health."
Building on the successes of its specialty networks, in the coming months, HOPCo will be announcing new MSK-focused CINs and collaborations with specialty physicians, payors and at-risk provider organizations in additional geographies to deliver MSK value-based care and population health programs that improve clinical outcomes for patients and sustainably lower the total cost of MSK care.
###
About Healthcare Outcomes Performance Company (HOPCo)
Healthcare Outcomes Performance Company (HOPCo) is the national leader of integrated musculoskeletal value-based health outcomes management, practice management and health system service line management.  This includes comprehensive expertise across all MSK specialties, including orthopedics, spine, neurosurgery, hand, pain management, rehabilitation and neurology.  HOPCo's integrated care, analytics, and facilities development and management platforms have proven to increase the quality of patient care while reliably reducing the total cost of care across the care continuum for practices, health systems and payors alike.  HOPCo's affiliated payors, practices, and health systems successfully participate in highly efficient value-based contracting (bundled payments, chronic episodes of care initiatives, population health programs, and other advanced risk-based arrangements) utilizing HOPCo's proprietary platforms, IT solutions, integrated analytics, and evidence-based comprehensive care pathways.  Visit www.hopco.com to learn more.
About URAC
Founded in 1990 as a non-profit organization, URAC is the independent leader in promoting health care quality and patient safety through renowned accreditation programs.  URAC develops its evidence-based standards in collaboration with a wide array of stakeholders and industry experts.  The company's portfolio of accreditation and certification programs span the health care industry, addressing health care management and operations, pharmacies, telehealth, health plans, medical practices and more.  URAC accreditation is a symbol of excellence for organizations to showcase their validated commitment to quality and accountability.  www.urac.org
For media inquiries, please contact:
Daniel Goldberg
Sr. Vice President of Marketing and Communications
Healthcare Outcomes Performance Company (HOPCo)
623.241.8649
Daniel.Goldberg@hopco.com